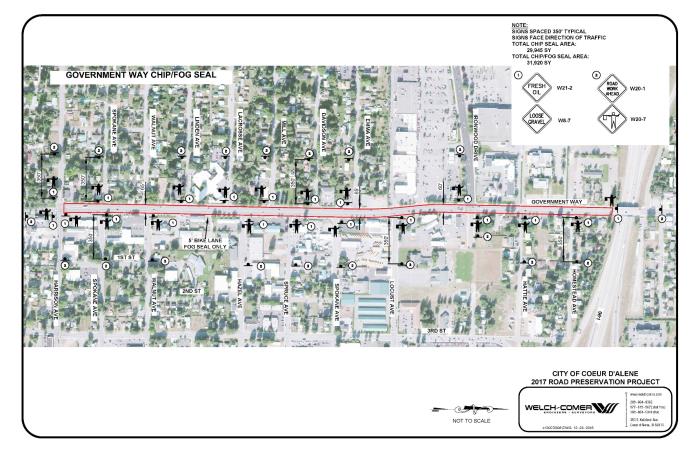 The City of Coeur d'Alene is advising motorists to drive slowly on a portion of Government Way and in two eastern subdivisions while the streets are chip sealed.
About $201,000 will be spent to chip seal the Foothills and Best Hill Meadows subdivisions, along with Government Way between Harrison Avenue and Interstate 90. See links to maps below.
The work begins Tuesday, July 11, and is expected to be fully complete by July 20.
Chip seal is a type of cost-effective pavement treatment that combines asphalt with small rocks, typically utilized on streets with less traffic volume or in areas where a full asphalt overlay isn't needed. The City is utilizing chip seal for the second time with this project in order to maximize the overall overlay maintenance program's budget. Last year's work in the Indian Meadows area is considered to have been highly successful and so additional funding was placed into chip sealing in 2017.
Residents in the area have received door hangers explaining the project and its details, noting that property like vehicles, trailers, basketball hoops and more need to be off the street during the two-day effort. Vehicles left on the street will have to be towed away in order for work to be done. Motorists in the area are encouraged to drive slowly for about two weeks after the sealing to minimize damage while the surface cures.
The sealing is being done with smaller rock, meaning it will be less noisy than may be experienced on rural, unincorporated roads that have been sealed in this manner.
Map Links (in PDF format)
Government Way
- Harrison Avenue to I-90
Best Hill Meadows Subdivision
Foothills Subdivision