The Cd'A Recreation Department provides a comprehensive recreation program designed to fulfill the leisure time interests and recreational desires of our community. We strive to offer a wide variety of programs and activities in order to reach as many community recreational needs as possible.



SKATEBOARD LESSONS
The mission of this program is to establish a curriculum that teaches skateboarding fundamentals including
safety and awareness of skate park etiquette, basic equipment, and a foundation of basic skills to get started riding and having fun on a skateboard.
GOAL: Instruct and demonstrate all levels of skateboarding to youth of Coeur d'Alene.
The goal is to reach the youth in our community, from elementary age on up, and to teach skateboarding's basic fundamentals to more technical intermediate skills.
In doing so the hope is to build confidence with a foundation of skills and knowledge that serves as a positive introduction to the skateboard community.
Day & Time: Saturday 9:00 AM – 10:30 AM
SESSION 1: 6/15, 6/22, 6/29
SESSION 2: 7/13, 7/20, 7/27
SESSION 3: 8/10, 8/17, 8/24
Bring your own skateboard if you have one and HELMETS are required.
Cost: $15 per session – Pre-registration is required at the Coeur d'Alene Recreation
Department, 710 Mullan Avenue. There is limited enrollment.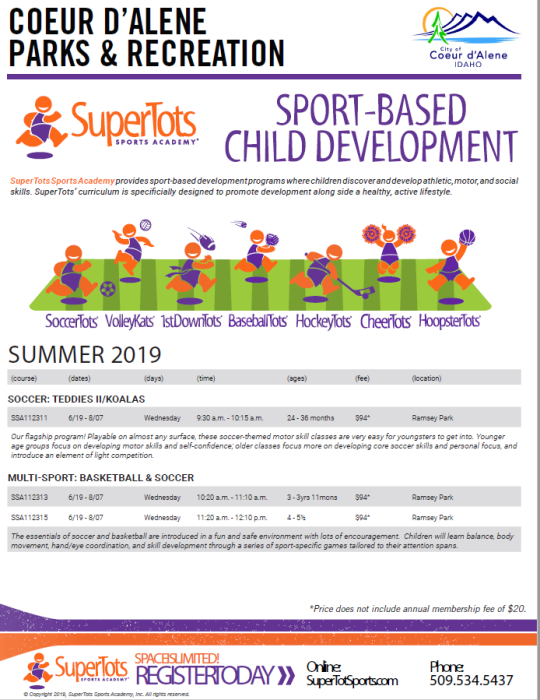 A new program starting this spring is called Your Vibrant Family presented by Heidi Moreland.
It is a four week spring wellness class designed for anyone else who wants to learn to nurture the whole family with whole foods.
This class will be held at the Jewett House on Thursday mornings starting in April.

YOUTH SCHOLARSHIPS
A partial waiver of fees may be available for seasonal sports league activities listed in our activities guide, if a request is made based on need and available funds. Funds are limited and come from public donations. To apply, or make a donation, please contact our office. A description of what is available can be found in our scholarship policy.