City Election Information
Welcome to the City of Coeur d'Alene's Election Services Web site. My goal as the City Clerk is to provide basic information to anyone who is interested in the City of Coeur d'Alene's election process.
If you cannot find an answer to your questions on this web page, please feel free to ask me any questions that you may have regarding the City's election process. I can be reached via e-mail at cityclerk@cdaid.org, phone at 769-2231 or by fax at 769-2348
Renata McLeod, City Clerk, CMC


The upcoming City Election will be held November 2, 2021, with seats being filled on January 4, 2022. The following seats are up for election:
Mayor: Currently held by Steve Widmyer
Council Seat 2: Currently held by Amy Evans
Council Seat 4: Currently held by Woody McEvers
Council Seat 6: Currently held by Kiki Miller


The CDATV Committee held a City of Coeur d'Alene Candidates Forum on September 30, 2021, hosted by local non-profit Coeur Group. To view a recording of the forum, click here.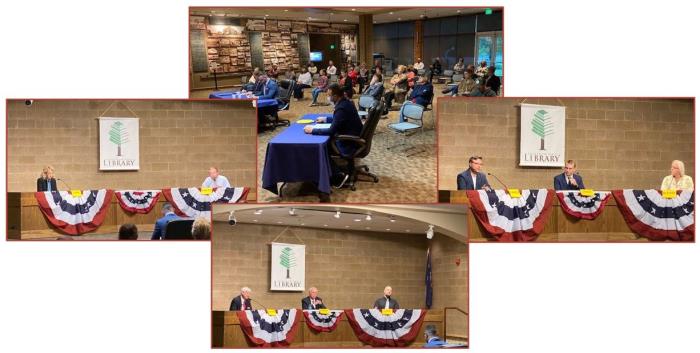 For more information on upcoming elections, visit voteidaho.gov and meetthecandidates.cdapress.com.
Please note that under new legislation the City Clerk is no longer responsible for overseeing campaign finance reporting of candidates who raise or spend $500.00 or more during this election. Candidates will use the portal on the Secretary of State's website to report all campaign finance reports.
https://sos.idaho.gov/elections-division/campaign-finance-filing/
*The candidate filing packet, write-in declaration of intent, withdrawal forms, candidate and write-in certification forms are all available on a state website, but still filed with the City Clerk. Rather than each city developing their own candidate filing forms and other documents, this year we will be using the forms developed by the Secretary of State's office in consultation with Association of Idaho Cities so there is greater consistency around the state. Those forms can be found at https://voteidaho.gov/city-resources/


Election Calendar: https://sos.idaho.gov/elections-division/calendars/
Some key dates to keep in mind are:
August 23-September 3, 2021 5:00 p.m. Candidate Declarations are due to the City Clerk (you must have petition signatures verified by the County Clerk first).
September 10, 2021 Deadline for write in Candidates (Declaration to the City Clerk)
September 17, 2021 Deadline for Candidates to withdrawal
October 29, 2021 last day of in person absentee voting.
November 2, 2021 Election Day

Please do not hesitate to contact me should you have any additional questions. Renata McLeod, City Clerk 208-769-2231