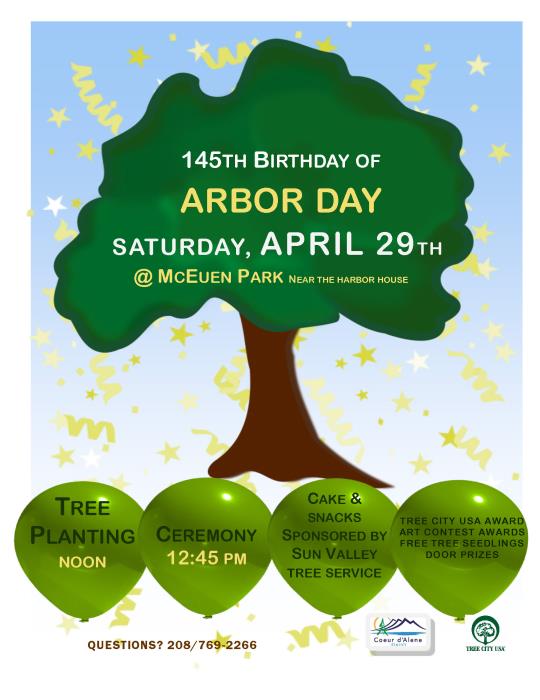 Join the City of Coeur d'Alene for an Arbor Day celebration Saturday, April 29, at McEuen Park, 520 Front Ave., near the Harbor House.
The festivities will begin with a tree planting at noon, followed by an Arbor Day Ceremony at 12:45 p.m. where City officials will receive Coeur d'Alene's 33rd consecutive Tree City U.S.A. award.
Following the ceremony there will be snacks, cake, coffee and punch sponsored by Sun Valley Tree Service to celebrate 145 years of Arbor Day.
The Tree City U.S.A. award is given by the National Arbor Day Foundation to communities who meet four criteria in the care of public trees. The City planted 921 public trees in 2016and an additional 700 seedlings were planted on Tubbs Hill.
Coeur d'Alene has been awarded a 2017 Arbor Day Grant of $300 from the Idaho Nursery and Landscape Association, which assists in purchasing trees for planting at the Arbor Day event. The Arbor Day grants are sponsored by the Idaho Nursery and Landscape Association in cooperation with the Idaho Department of Lands, Avista, Idaho Power, and Rocky Mountain Power.
For more information about any of these events, contact Katie Kosanke at (208) 769-2266 or visit www.cdaid.org/parks