Hilary Anderson, Coeur d'Alene's community planning director, and Nicole Kahler, project manager for Coeur d'Alene 2030 Visioning Project, traveled last week to Nashville, Tenn., for an announcement regarding America's Best Communities prize contest.
Coeur d'Alene was one of only two communities across the country selected in a drawing to attend the announcement event and the all-expenses-paid trip to Nashville.  Close to 50 communities entered the drawing 
"The trip to Nashville was a great opportunity to learn more about the competition and what the review committee will be looking for in the grant applications," Anderson said. "If awarded, the ABC grant would provide money to help fund some of the community's top priorities identified in the CDA 2030 Implementation Plan and make them a reality."
Coeur d'Alene officials and other community partners are in the process of applying for a $50,000 economic revitalization grant through the America's Best Communities Prize Competition, which is a multi-year contest designed to grow economies in small towns across the country. Fifty communities will be awarded $50,000 following the application deadline March 25.
If successful in the first round of the competition, communities will vie for $100,000, and then compete to win the grand prize of $3 million. The $10 million and three-year prize competition is funded by Frontier Communications, DISH Network and CoBank. 
Coeur d'Alene's local application committee includes the collaborative efforts of the city, Coeur d'Alene Chamber of Commerce, CDA 2030 Visioning Project, Coeur d'Alene School District, Heritage Health, Kootenai Health, Jobs Plus, Innovation Collective, Panhandle Health District and University of Idaho. Post Falls, Rathdrum and Hayden have also expressed interest in participating in the competition and have met to discuss ideas.
While in Nashville, Anderson and Kahler met Country Music Hall of Famer Vince Gill, a longtime advocate for hardworking families in our nation's small towns and celebrity partner of the America's Best Communities prize competition.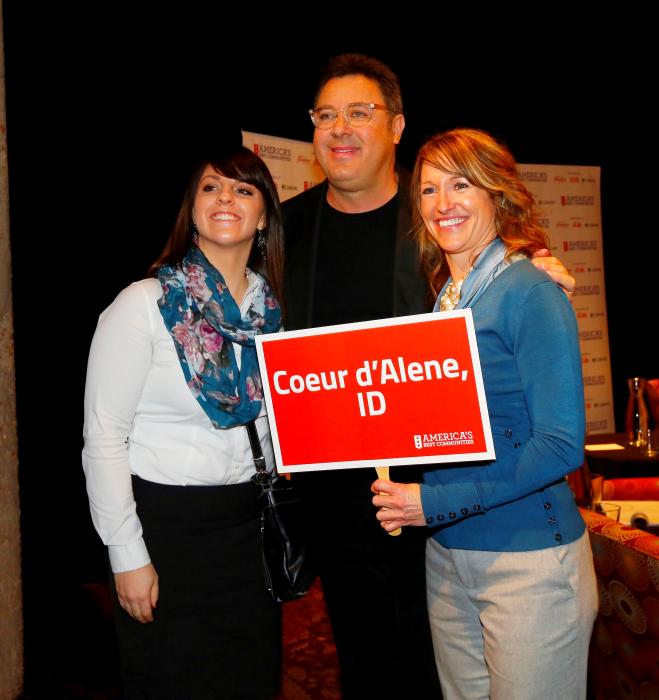 Photo: Country Music Hall of Famer Vince Gill with Nicole Kahler, left, and Hilary Anderson.