Public Art The Great Escape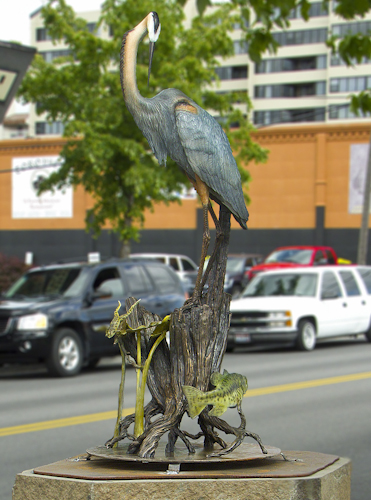 "The Great Escape"
by Jerold Smiley

McEuen Park
Artist Description: "Due to it's graceful beauty, the Blue Heron is one of my favorite birds to sculpt. With a wing span greater than six feet and standing approximately three feet high, it has superb athletic ability to stalk it's prey. As they hunt the water's edge in the ponds by where I live, I have witnessed the patience and graceful beauty of these birds. In this piece the heron has his eye on a leopard frog that is planning to escape beneath the lily pads. A large mouth bass is lurking in the waters beneath and is looking for a nice juicy frog. Thus the title, "The Great Escape," came to mind.

This piece was donated to the Coeur d'Alene Arts Commission by Justin Stormogipson in memory of his late wife, Madge. It is located by the Third Street Dock area in McEuen Park.
Dimensions: 56" H x 30" W x 30" D