SPRING SOCCER
Registration is MARCH 1-13 . We take boys and girls
in grades K-8. Your K aged child must currently be
enrolled in kindergarten to be eligible.

MINI KICKERS SOCCER
In conjunction with Sting Soccer Club we will offer a
camp style soccer activity for 3, 4 and 5 year olds.
Registration is MARCH 1-13.

Dates of the camp: April 7, 14, 21 and 28
YOUTH VOLLEYBALL CAMP
The Coeur d'Alene Recreation Department will co-sponsor with the North Idaho College Women's Volleyball Team a volleyball clinic for 1st– 4th and 5-8th graders. Registration is February 1 – February 16 or until the clinic is full. Registration will take place at the Coeur d'Alene Recreation department, 710 Mullan Avenue. This clinic offers 4 ninety minute sessions of instruction. The clinic will take place Mondays and Wednesdays in March. Cost is $35. Free volleyball t-shirt for all kids enrolled in program.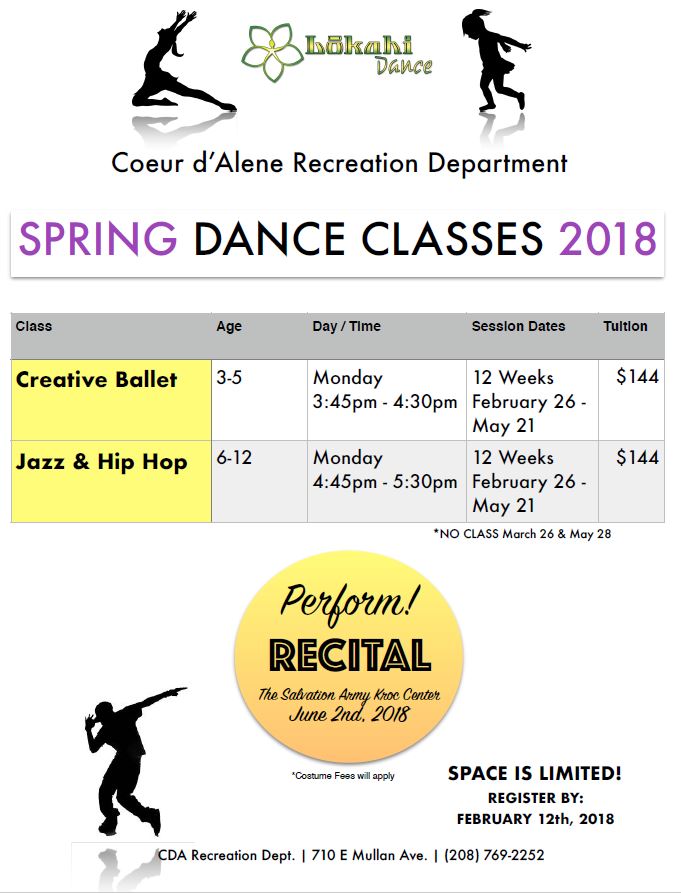 DANCE REGISTRATION FORM





COEUR D'ALENE RECREATION/FRONTIER ICE ARENA
LEARN TO SKATE
Ages: 3 – Adult
Website: www.lakecityfigureskating.org
It's time to lace up your skates and give skating a try!! Introductory
skating lessons for aspiring figure skaters and hockey players. In these
4-week sessions, skaters will learn the basic fundamentals of skating
through group instruction, fun games and music. All skaters will also
receive a pass for Tuesday night public session to practice.
Location: Frontier Ice Arena, 3525 W. Seltice Way, Coeur d'Alene
Fee: $50
Classes – Days/Dates/Times
Tu 8.15-9.5 5pm or 5:45pm
Tu 10.10-11.7 (No class 10.31) 5pm or 5:45pm
Tu 1.2-1.23 5pm or 5:45pm
Tu 2.27-3.20 5pm- 5:45pm
Tu 5.1-5.22 5pm or 5:45pm




A partial waiver of fees may be available for seasonal sports league activities listed in our activities guide, if a request is made based on need and available funds. Funds are limited and come from public donations. To apply, or make a donation, please contact our office. A description of what is available can be found in our scholarship policy.