The Cd'A Recreation Department provides a comprehensive recreation program designed to fulfill the leisure time interests and recreational desires of our community. We strive to offer a wide variety of programs and activities in order to reach as many community recreational needs as possible.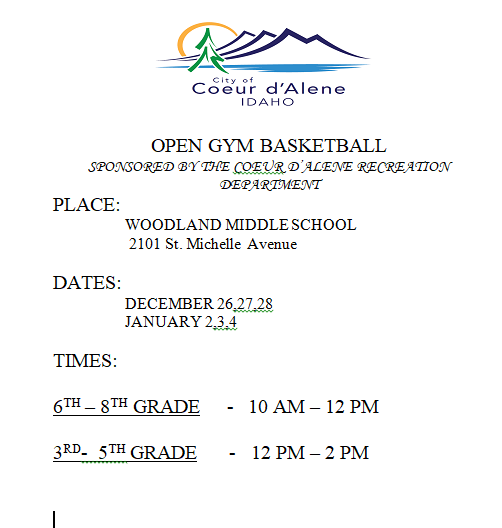 YOUTH WRESTLING
The Coeur d'Alene Recreation Department will co-sponsor with the North Idaho College Wrestling Team a wrestling clinic for K – 6th graders.
Registration is December 3 - December 24 or until the clinic is full.
Registration will take place at the Coeur d'Alene Recreation department, 710 Mullan Avenue.
This clinic offers five sessions of instruction with a tournament at the end. T
he clinic will take place Mondays and Wednesdays in January. Cost is $35.
Free wrestling t-shirt for all kids enrolled in program.



K / 1S T/ 2ND GRADE BASKETBALL
Registration is January 1-11. League play will begin in mid February. Games are played Mon–Thurs and on Saturdays. We use 8 foot baskets. Fee: $30 res. $35 Non-resident.



YOUTH SCHOLARSHIPS
A partial waiver of fees may be available for seasonal sports league activities listed in our activities guide, if a request is made based on need and available funds. Funds are limited and come from public donations. To apply, or make a donation, please contact our office. A description of what is available can be found in our scholarship policy.