Allium Spring Chorus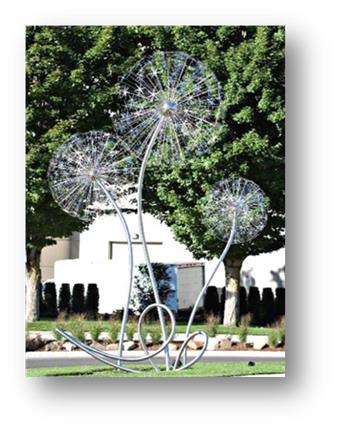 "Allium Spring Chorus"
Artist: David Tonnesen
Location: McEuen Park Third Street Entrance
In 2013, the Coeur d'Alene Arts Commission issued a Call to Artists for a piece of art that would significantly beautify one of the primary entrances of the revitalized McEuen Park. The public art piece was meant to be a piece of art that would be visually enjoyed by visitors to the park, as well as a feature of the park that could be seen by passersby. The total amount of funding for the piece was $110,000.00.

"Allium Spring Chorus," by artist David Tonnesen, was one of four (4) finalists selected by the Selection Committee, which consisted of seven (7) voting members, including arts professionals, artists, citizens, and a council member. Maquettes were displayed for public comment at the Coeur d'Alene Public Library.

In the artist's own words, "Allium Spring Chorus" is a "composition of 3 sculptures reaching upwards from the plantings, curving organically, naturally. Think fireworks, alliums, dandelions thrusting up from the planted islands as if they are living or dramatic fireworks frozen in time. Breezes and winds activate the thousands of star shapes that make up the flower heads, catching and reflecting light, bending slightly in a natural plant-like manner. Passersby may be able to hear the subtle tinkling of the stars."

The sculpture is constructed of stainless steel.

McEuen Park was dedicated on May 24, 2014.