Public Art Take Time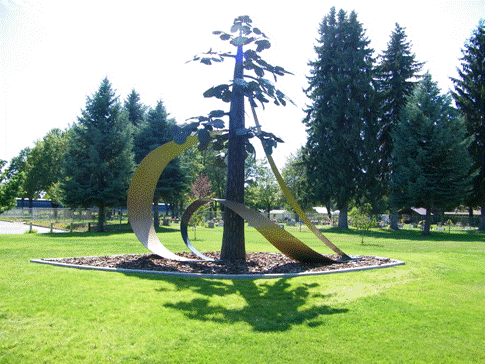 "Take Time"
Artist: Teresa McHugh of Dalton Gardens, Idaho
Location: Corner of 23rd Street and Coeur d'Alene Lake Drive
In February, 2009, the Coeur d'Alene Arts Commission issued a Call to Artists for public art on a grassy location at the corner of 23rd Street and Coeur d'Alene Lake Drive, which is a point of entry/exit for Coeur d'Alene's downtown corridor from/to the east. No theme was suggested, allowing for open interpretation and creativity to make a lasting impression on residents and visitors.
Artist Teresa McHugh was one of 33 artists who submitted qualifications for the public art. The Selection Committee, consisting of seven (7) voting members including arts professionals, artists, citizens, and a council member, narrowed the submissions to three finalists and requested that maquettes be prepared. The maquettes were displayed for public comments at City Hall, and the Art of the Green event on July 31st through August 2nd. The recommendation of the Selection Committee was approved by the Coeur d'Alene City Council on September 21, 2009, and the artwork was dedicated on June 30, 2010.
"At the center of the sculpture stands a steel ponderosa pine approximately twenty feet in height. This lone tree represents the forests of our forefathers that blanketed the countryside and rimmed the lake. It gives a noble nod to the logging industry and to the sawmills that fed, clothed and housed our community for over a hundred years. It also stirs memories of the enduring strength of the people who have lived in this great place; laboring and persevering even during difficult times, of which there have been plenty. This portion of the sculpture is my toast to the past and Coeur d'Alene's enduring people.
The bronze portion of the sculpture symbolizes the future of Coeur d'Alene. The contemporary flowing shapes evoke many themes including: water, sailing, wind, and our citizen's hearts. The free flowing nature of these shapes inspires playfulness. In addition, for those who fondly refer to our town in the abbreviated form, it simply represents the letters 'Cd'A'. This portion of the sculpture also portrays the 'fun' of the piece and 'fun' we offer in Coeur d'Alene is what brings many visitors to our area. . . .
The entire sculpture is designed to cause the viewer to ponder and study as well as just simply enjoy . . . much like our wonderful little city." - Teresa McHugh