Comprehensive Plan Update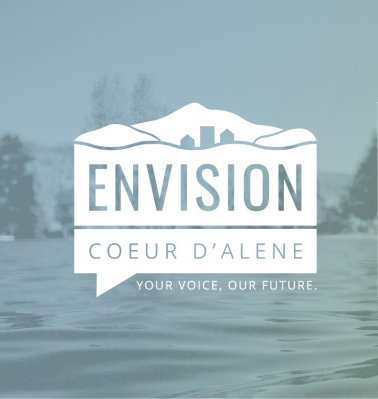 What is a Comprehensive Plan?
In case you don't already know, the City's Comprehensive Plan is a 20-year guide for the physical growth of Coeur d'Alene. It establishes our long-range vision and is a tool to be used for land use decisions by the Planning Commission and City Council. It addresses changing demographics and economics and includes growth projections and trends. It is also an implementation plan to realize the goals set forth in the plan. In addition to being an important long-range planning tool, the state's Local Land Use Planning Act (LLUPA) also mandates that Idaho communities have a comprehensive plan that addresses 17 specific topics. Cities are not limited to these items, and many choose to include additional elements, based on best practices and community input/feedback.
Comprehensive plans take a lot of time and community involvement to update. Realistically this effort will take about two years, and during that time there will be many opportunities for community members to get involved as the effort progresses.
If you are interested in being involved with the process, please contact Sean Holm, Senior Planner at: sholm@cdaid.org to be added to the contact list.

What is Envision Coeur d'Alene?
Envision Coeur d'Alene is a long-range planning and visioning project formed to develop a citywide plan to serve the city's residents and community at-large. A collaboration between the City of Coeur d'Alene and CDA 2030, the single but separable plan will fulfill the City's State-mandated comprehensive planning requirements for the years 2020–2040 and update CDA 2030's Vision and Implementation Plan.
The planning process will involve robust community engagement coupled with expert analyses. The City and CDA 2030 will convene a diverse community advisory committee and six focus groups to oversee the project and represent various facets of Coeur d'Alene. Numerous public meetings will take place in various locations and formats to involve as many members of the community as possible.
The plan will address the following topics as mandated by the State: property rights, population, school facilities, economic development, land use, natural resources, hazardous areas, public services, facilities, and utilities, transportation, recreation, special areas or sites, housing, community design, agriculture, implementation, national interest electric transmission corridors, and public airport facilities.
Major components of the plan will include a market analysis, economic development analysis, existing conditions study, and transportation analysis. Based on community input and the aforementioned research, a future land use map will be generated to help guide future growth and development.
As Coeur d'Alene continues to grow into the future, the need for planning is as urgent as ever. By planning together, we can help ensure the long-term health and prosperity of our community.
FAQs


Who is responsible for Envision Coeur d'Alene?
The City of Coeur d'Alene and CDA 2030

What consultants are supplementing the City and CDA 2030?

MIG (primary)
Bridge Economic Development (subconsultant)
Kittelson & Associates (subconsultant)

What stage in the process is the project in?

The very beginning! The public will be invited to participate fully in the process, but we have not officially launched the effort yet. See below.

The City Council approved the agreement with MIG, Inc. on June 18, 2019. All parties have signed the agreement, so now the project effort can officially begin. Please stay tuned for project updates and opportunities to participate.

While some preliminary work has been done to engage the Planning Commission, City Council, and city departments, this was not considered to be part of the community visioning or to determine priorities of the community. It was done to educate community officials and staff on educational needs and demographic and economic changes in the community, and identify issues to include in the request for proposals (RFP) for consultant assistance with the project.

All workshops held to date related to the Comprehensive Plan Update and Envision Coeur d'Alene project were open for the public to attend and no decisions were made concerning the outcome of the project.

Who can participate in Envision Coeur d'Alene?
Everyone! The City and CDA 2030 encourage all members of the Coeur d'Alene community to participate.

Have requests for public input been posted?

Not yet. Again, as noted above, the project is in the very early stages. Public input will be forthcoming and is one of the most critical aspects of the project.

Per the scope of work that MIG and the City of Coeur d'Alene came to agreement over, public input is addressed under Phase 2: Visioning.

MIG, Inc. will be working with city staff and CDA 2030 to develop a robust public involvement plan for the project this fall. This will be reviewed at the end of each task to ensure successful public engagement throughout the project.

Every member of the public will be invited to provide input on the project once the project officially kicks off, and will be an important aspect of the project throughout the process which is anticipated to be completed by December, 2020.

How will I be able to participate and provide my comments?
There will be a plethora of ways and many times that the public will be engaged throughout the project to provide comments, ideas, concerns, and weigh in on the community vision, preferred development patterns, goals and policies for how the city will develop over the next 20 years, and priority action items.

City staff will work with MIG, Inc. and CDA 2030 to determine how many people should be on the Community Advisory Committee (CAC) and each of the focus groups to ensure broad representation from community members.

Members of the public will be invited to participate in the CAC and six (6) focus groups as identified in the CDA2030 vision & implementation plan to help provide more focused input on the project:

All members of the community will be asked to provide input on the project through a variety of surveys, community meetings, visioning sessions, mapping exercises, etc.

A project website is being developed with the sole purpose of public engagement, participation in the project, and keeping community members informed of project progress and opportunities to participate. The website is currently being developed. Once it is live, information will be sent out to begin collecting names and contact information for people who want to participate and stay informed.

There will be an official Kickoff event in the fall. Details will be shared once the date, time, and location have been set.

Who is responsible for approving the final citywide plan?
The Planning Commission will take the first vote on the draft document, and the ultimate responsibility for adoption belongs to the City Council.


Envision Coeur d'Alene
Your voice, our future.


For those interested in the verbiage of Idaho State code as it relates to the required elements of a comprehensive plan:
TITLE 67: STATE GOVERNMENT AND STATE AFFAIRS
CHAPTER 65: LOCAL LAND USE PLANNING
67-6508. Planning duties. It shall be the duty of the planning or planning and zoning commission to conduct a comprehensive planning process designed to prepare, implement, and review and update a comprehensive plan, hereafter referred to as the plan. The plan shall include all land within the jurisdiction of the governing board. The plan shall consider previous and existing conditions, trends, compatibility of land uses, desirable goals and objectives, or desirable future situations for each planning component. The plan with maps, charts, and reports shall be based on the following components as they may apply to land use regulations and actions unless the plan specifies reasons why a particular component is unneeded.
(a) Property Rights — An analysis of provisions which may be necessary to ensure that land use policies, restrictions, conditions and fees do not violate private property rights, adversely impact property values or create unnecessary technical limitations on the use of property and analysis as prescribed under the declarations of purpose in chapter 80, title 67, Idaho Code.
(b) Population — A population analysis of past, present, and future trends in population including such characteristics as total population, age, sex, and income.
(c) School Facilities and Transportation — An analysis of public school capacity and transportation considerations associated with future development.
(d) Economic Development — An analysis of the economic base of the area including employment, industries, economies, jobs, and income levels.
(e) Land Use — An analysis of natural land types, existing land covers and uses, and the intrinsic suitability of lands for uses such as agriculture, forestry, mineral exploration and extraction, preservation, recreation, housing, commerce, industry, and public facilities. A map shall be prepared indicating suitable projected land uses for the jurisdiction.
(f) Natural Resources — An analysis of the uses of rivers and other waters, forests, range, soils, harbors, fisheries, wildlife, minerals, thermal waters, beaches, watersheds, and shorelines.
(g) Hazardous Areas — An analysis of known hazards as may result from susceptibility to surface ruptures from faulting, ground shaking, ground failure, landslides or mudslides; avalanche hazards resulting from development in the known or probable path of snowslides and avalanches, and floodplain hazards.
(h) Public Services, Facilities, and Utilities — An analysis showing general plans for sewage, drainage, power plant sites, utility transmission corridors, water supply, fire stations and fire fighting equipment, health and welfare facilities, libraries, solid waste disposal sites, schools, public safety facilities and related services. The plan may also show locations of civic centers and public buildings.
(i) Transportation — An analysis, prepared in coordination with the local jurisdiction(s) having authority over the public highways and streets, showing the general locations and widths of a system of major traffic thoroughfares and other traffic ways, and of streets and the recommended treatment thereof. This component may also make recommendations on building line setbacks, control of access, street naming and numbering, and a proposed system of public or other transit lines and related facilities including rights-of-way, terminals, future corridors, viaducts and grade separations. The component may also include port, harbor and other related transportation facilities.
(j) Recreation — An analysis showing a system of recreation areas, including parks, parkways, trailways, river bank greenbelts, beaches, playgrounds, and other recreation areas and programs.
(k) Special Areas or Sites — An analysis of areas, sites, or structures of historical, archeological, architectural, ecological, wildlife, or scenic significance.
(l) Housing — An analysis of housing conditions and needs; plans for improvement of housing standards; and plans for the provision of safe, sanitary, and adequate housing, including the provision for low-cost conventional housing, the siting of manufactured housing and mobile homes in subdivisions and parks and on individual lots which are sufficient to maintain a competitive market for each of those housing types and to address the needs of the community.
(m) Community Design — An analysis of needs for governing landscaping, building design, tree planting, signs, and suggested patterns and standards for community design, development, and beautification.
(n) Agriculture — An analysis of the agricultural base of the area including agricultural lands, farming activities, farming-related businesses and the role of agriculture and agricultural uses in the community.
(o) Implementation — An analysis to determine actions, programs, budgets, ordinances, or other methods including scheduling of public expenditures to provide for the timely execution of the various components of the plan.
(p) National Interest Electric Transmission Corridors — After notification by the public utilities commission concerning the likelihood of a federally designated national interest electric transmission corridor, prepare an analysis showing the existing location and possible routing of high voltage transmission lines, including national interest electric transmission corridors based upon the United States department of energy's most recent national electric transmission congestion study pursuant to sections 368 and 1221 of the energy policy act of 2005. "High-voltage transmission lines" means lines with a capacity of one hundred fifteen thousand (115,000) volts or more supported by structures of forty (40) feet or more in height.
(q) Public Airport Facilities — An analysis prepared with assistance from the Idaho transportation department division of aeronautics, if requested by the planning and zoning commission, and the manager or person in charge of the local public airport identifying, but not limited to, facility locations, the scope and type of airport operations, existing and future planned airport development and infrastructure needs, and the economic impact to the community.
Nothing herein shall preclude the consideration of additional planning components or subject matter.