Under the Rainbow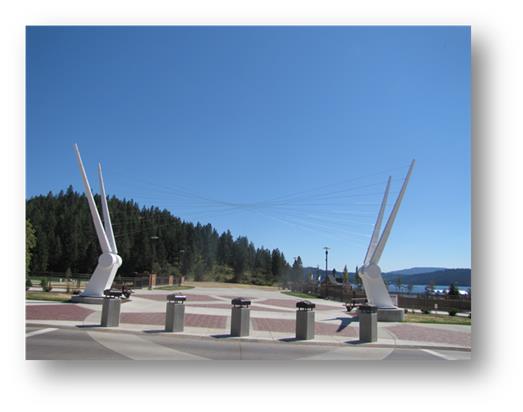 "Under the Rainbow"

Artist: Howard Meehan

Location: McEuen Park Entrance (4th & Front Avenue)
In 2013, the Coeur d'Alene Arts Commission issued a Call to Artists for a piece of art that would significantly beautify the entrance to the revitalized McEuen Park. It was meant to be the artist's embodiment of the welcome each resident and visitor should feel upon entering the park. As the gateway between downtown Coeur d'Alene and the park and lakefront, the Arch would be the first impression many visitors see of the park area. The total amount of funding for the piece was $110,000.00.

"Under the Rainbow," a large, modern arch constructed of a steel base and spires, stainless steel cables and LED lighting, by Artist Howard Meehan, was one of four (4) finalists selected by the Selection Committee, which consisted of seven (7) voting members, including arts professionals, artists, citizens, and a council member. Maquettes were displayed for public comment at the Coeur d'Alene Public Library.

In the artist's own words, "We want the people and visitors to Coeur d'Alene to feel a sense of place, and visceral power and beauty of walking day or night 'Under the Rainbow.'"

McEuen Park was dedicated on May 24, 2014.