Councilmember Ron Edinger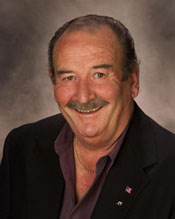 Ron Edinger was elected to the City Council in 1968, and served until 1974. He was then elected Mayor, and served a four-year term. After a two-year hiatus, Edinger ran for Council again in 1980, and has been on the Coeur d'Alene City Council since that time. He has served the city longer than any other elected official and for those 30 plus years has been the highest vote-getter.

Edinger serves on the General Services Committee and has also served on the Northwest Boulevard Planning Group. In addition, he served on the committee to select the architect for the city's new police facility, now the model for other law enforcement facilities across the State of Idaho. He was also a member of the committee that chose the public art for the Police Station. Edinger was also a member of the committee that selected the Walker Macy group to create a Downtown Public Places Master Plan. He currently serves on the Tubbs Hill Foundation, the Parks Foundation, the Parks & Recreation Commission, and the Sick Leave Bank.

During Edinger's tenure as Mayor, two very important projects were accomplished. With much discussion and polling of citizens, Tubbs Hill was purchased. This was done with no tax increase. The area in the park, previously called Playland Pier, was redesigned and renamed Independence Point.

Edinger was instrumental in keeping Person Field an open space and neighborhood park.

Earlier, Edinger was selected by the Idaho Jaycees as "Outstanding Young Man In America." He was also inducted into the Umpire's Hall of Fame by the Amateur Softball Association of America. He is a member of the Calam Shriners - Cd'A Scottish Rite. He was inducted into Idaho's Hall of Fame in 2018 for Outstanding Achievement in Government and Public Services.

Ron and his wife, Nancy, have been married for 61 years. They have four (one deceased) daughters, ten grandchildren (two who are deceased), and twelve great-grandchildren.