Public Art Fallen Heroes Plaza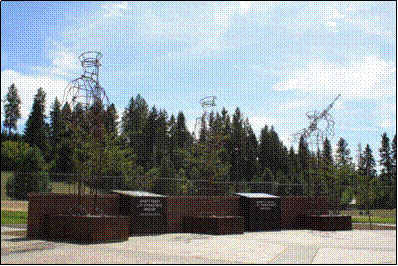 Fallen Heroes Plaza
Artist: Brian Schmid (Rebar Statues)
Location: Behind Fire Station 3, 1500 N. 15th Street
In April, 2005 the Coeur d'Alene Arts Commission was approached by the City of Coeur d'Alene Parks and Fire Departments for assistance in creating a very unique playground and Fallen Heroes Plaza. The plaza is the site of five 12-foot rebar statues created by Artist Brian Schmid, consisting of two firefighters and three police officers which were funded by the Arts Commission for $20,200.00.
The entire plaza concept was designed for many purposes: reflection, meditation, ceremonies, weddings, meetings, and education. Between the 12-foot statues is a list of all the firefighters and police officers that have died in the line of duty. Those names are engraved in black granite with white lettering. A piece of the World Trade Center is embedded in a basalt column and placed in front of two larger basalt columns symbolizing the World Trade Center Buildings before they collapsed. Around the columns are granite foot prints of the other 14 buildings that were impacted on that September day.
Fallen Heroes Plaza hosts public art, a place of honor and reverence for those who have given the ultimate sacrifice, and a means of expression for the community to show their admiration and respect for these brave men and women.
The Fallen Heroes Plaza was dedicated on September 11, 2009.